July 23,
2020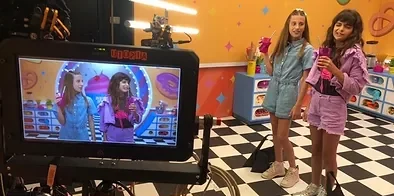 Ananey Studios Wraps Production of Hit Series "Craft Party's" (Mesibat Yetzira) Delicious New Season!
The show was successfully filmed during COVID-19 using the company's capsule method
Tel Aviv, Israel Ananey Studios has wrapped filming of the sixth season of Mesibat Yetsira, its popular original DIY and craft series for kids that was purchased and adapted by CBBC (BBC's children television brand) as "Craft Party" for two successful seasons (10 episodes per season) placing itself in the top ten most-watched shows on CBBC in the weeks that it broadcast.
Craft Party's sixth season's theme is food art. DIY gurus Shi-ya and Mor show us, step-by-step, how to make kid-favorite foods like pizzas, pancakes, and cookies, and how to creatively decorate them. At the end of each episode, Shi-ya and Mor share their creations with friends and family at their sparkly food stand as they all dance, laugh, and enjoy their home-made treats together!
Craft Party was originally created by Bonit Ben Ami and Shirley Oran, directed by Roy Shalem and produced by Ananey Studios (FKA Nutz Productions) a leading force of content and production in Israel. The show debuted exclusively on HOT Cable Network (Nick Jr.) in August 2017 and instantly became a huge success, including a leading series on VOD and massive viewings on YouTube.  The second season was immediately commissioned and released in February 2018, quickly followed by a third, fourth, and fifth season.
The filming of Craft Party during COVID-19 was made possible thanks to Ananey Studios' unique capsule method and strict health-code regulation, ensuring stars Shi-ya and Mor as well as cast and crew stayed healthy and were able to shine throughout the production!
The new season will premiere this October on Nick Jr. exclusively via Israeli cable network HOT.
​