July 26,
2020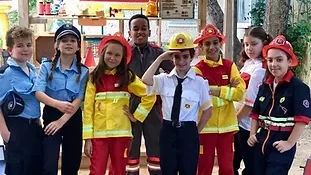 Ananey Studios Award-Winning Series for Preschoolers "Rescue Team" Welcomes New Cast Member as it Wraps Shooting its Adventurous Sixth Season!
Tel Aviv, Israel Rescue Team, Ananey Studios's leading live-action series for preschoolers, has finished production of its sixth season. The new season of the award-winning series, which was filmed under tight health-code regulation due to COVID-19, welcomes a new cast member to join a highly talented team of seven young actors (aged 6-8).
The newest addition to the cast is Nir, a helicopter pilot who's responsible for air rescue! Nir is the eighth member of Rescue Team and the only one with the power to assist from air. With Nir's aid, the team focuses on helping their playground friends with solving complex cases and surprising mysteries by going on exhilarating chases.
Rescue Team features a combined elite force of preschoolers on a mission to save the day. A team of police officers, firefighters and medics enforce the law and restore order on the playground. In each episode, Rescue Team's commander answers the call of worried citizens and the team goes out to explore what new problems have risen – they help people who fall and injure themselves, extinguish fires, solve crimes and catch criminals. Well, technically there's always one criminal who's behind every single incident in the show – Mani Menace.
By watching our heroes, the viewers learn how important it is to help other people, animals, and work as a team. The series also creates awareness and confidence in the work of Police, Fire Fighters and Emergency Medical Technicians that serve our communities. By fixing Mani's wrongdoings, they demonstrate proper behavior of fellowship, friendship, and kindness, while also helping young kids explore which boundaries can be flexed in an entertaining and positive way. Rescue Team is a fun, adventurous and empowering show for preschoolers, that became an immediate hit upon release in Israel.
The new season will premiere this coming December on Nick Jr. exclusively for subscribers of Israeli cable network HOT.