October 8,
2020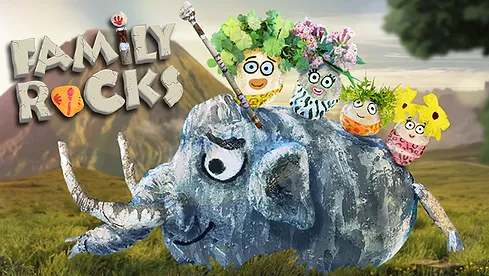 Splash Entertainment and ViacomCBS's Ananey Studios Team Up on New Preschool Series, Family Rocks
Splash Entertainment, the U.S.-based, multi-award-winning children's entertainment studio, and ViacomCBS's Ananey Studios, one of the leading, award-winning production companies and content creators in Israel, are joining forces for the first time to produce and distribute Family Rocks, a new preschool series about the first modern family of the Stone Age. The 52×7-min digital cut-out animated series will be ready to "rock" the international broadcast community at MIPCOM 2020, October 12-15.
​Family Rocks follows the Stone Age adventures of the first modern family in history, the Quartzes, and includes Mom Rocksan, Dad Tuff, and 6-year-old twins Pebble and Gemma. After centuries of unruly Neanderthals with a crude parenting style called "pointing and grunting," the Quartzes communicate verbally, explore together, tell stories, create art, and even talk about their feelings and emotions. As the new modern family, the Quartzes have to figure out everything on their own, and they soon realize that sometimes people have to get things wrong before getting them right – which is all part of the fun. Among the adventures and life-changing discoveries the Quartzes stumble upon are the wheel, fire, music, art, and the game, "I spy with my little eye."
​"We fell in love with Family Rocks as soon as we saw it," said Peter Young, Director of Development, Splash Entertainment. "We are excited to be collaborating with Ananey and series creator Gili Dolev to bring this authentic and relatable Stone Age family to life for preschoolers and their families all across the globe."
"We are very happy to be working with Splash Entertainment, our wonderful likeminded, fun and creative partners," said Dolev, who in addition to creating the series is Head of Animation Development at ViacomCBS's Ananey Studios. "With this Ananey/Splash dream team assembled behind the show, we're looking forward to 'rocking' the world with Family Rocks!"
​Dolev came up with the idea for Family Rocks during the pandemic's first quarantine in Israel earlier this year. To help the family stay positive and creative, the Dolevs ventured out each day to collect rocks that they would then take home to paint, giving each its own unique look and "personality." Ultimately, the family collected and created more than 50 stones, which became the inspiration for the new series. "While rocks have always given humans physical foundations, first caves and later houses, family has been the emotional bedrock we're all built upon," said Dolev.
​Dolev is an Emmy, BAFTA and Annie-nominated creator and director whose credits include Zack & Quack (Nickelodeon), based on his multiple award-winning short, The Happy Duckling; Nella the Princess Knight (Nick Jr and 9 Story); and Powerbirds (Universal Kids). Pilot script for Family Rocks is being written by the multi award-winning Jacqueline Moody (Gigantosaurus, Kiva Can Do, Wordworld).
​Ananey's award-winning productions are available on both linear and SVOD platforms in Israel and around the world. Among the company's notable offerings for preschoolers are the live-action shows Rescue Team and Walla Koala. In addition to preschool programming, Ananey's portfolio includes original productions for Kids, Tweens and Teens such as Netflix's Greenhouse Academy, CBBC's Craft Party and Spellkeepers on HBO Europe, among others, along with Entertainment & Comedy and Lifestyle & Factual offerings.
​Splash is a multi-award-winning studio with a wide array of kid- and family-friendly programming. Most recently, the company announced it will develop, produce and distribute new animated on-screen content based on the picture book, "The Little Shop of Monsters," written by R. L. Stine and illustrated by Marc Brown ("Arthur"), as well as Stine's comedy book series, "Rotten School."
​Source: anbmedia