October 20,
2020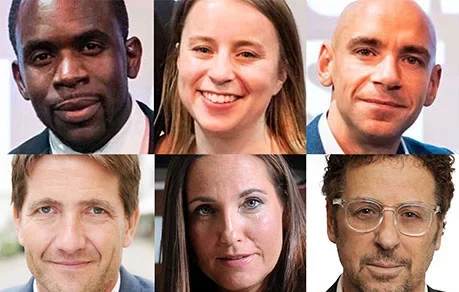 C21FM Weekly Review Show with Ananey CEO Orly Atlas-Katz
SCHEDULE WATCH PROFILE: Israeli media company Ananey is planning significant growth following its recent takeover by ViacomCBS. Gün Akyuz reports.
​Overview Ananey is busy tapping into the global clout of its new parents ViacomCBS Networks International (VCNI), following its full takeover in April.
​"ViacomCBS is one of the biggest media organisations in the world, creating a huge amount of great content," says Ananey CEO Orly Atlas-Katz. "We believe that it will grow Ananey faster than if we were to do it on our own."
​Although Ananey and Viacom have been partners for over two decades, with the former running Viacom's channel brands such as Nickelodeon, Comedy Central and MTV in the country, alongside its own suite of channels, the full takeover "is definitely upgrading us in a few ways," Atlas-Katz says.
The Israeli content industry has grown significantly over the past few years, thanks to high-end drama such as Fauda making it to Netflix. The show is just one of "many examples of great Israeli content, and we are part of this great opportunity," she says. "For us and for ViacomCBS, it's a great opportunity to tap into the Israeli content market and take it outside Israel."
One way the takeover is helping Ananey is that it now has more leverage with Israel's creative talent and international copro partners, thanks to ViacomCBS's "knowledge and know-how about coproducing with other clients and companies," observes Atlas-Katz.
"It's big for us, as a company that was doing quite well in the Israeli market and in the international one, to now have this full range of knowledge, experience and connections outside Israel."
Ananey's Israeli activities cover a local portfolio of 12 pay channels, including lifestyle nets The Food Channel, The Good Life Channel, The Travel Channel, The Health Channel and Ego & Ego Total, along with ViacomCBS brands MTV, MTV Music, Comedy Central, Nickelodeon, Teen Nick and Nick Jr. The group's channels reach 75% of all Israeli households on Israeli pay TV platforms HOT and Yes.
Ananey is also a major content producer in Israel, responsible for around 500 hours of content annually. Its production division, Ananey Studios, spans unscripted (fka Shamayim Productions) and scripted (fka Nutz Productions) across a range of genres and audience demos and has developed a particular speciality in teen and young-adult drama. It is also active in animation as well as interactive gaming development and production, the latter through Mars Interactive.
​While Ananey is now part of a global group, Atlas-Katz says the company retains its independence. "It was very important to ViacomCBS to keep us as an independent and innovative company," she says, noting that she now works with a bigger team and a few new colleagues, and is learning a lot. "That's the most exciting part of it," she comments.
Meanwhile, Ananey's founder and chairman, Udi Miron, has stayed on in a new role as special advisor, but with added links to VCNI as a joint partner on a new venture capital fund, Gazella – New Media Experience, formed with VCNI to invest in Israeli media and technology-related businesses.
Atlas-Katz says VCNI is also happy about maintaining the status quo of Ananey's suite of 12 Israeli channels, in what she calls a very "hectic" local market. The advantage is that Ananey now accesses ViacomCBS's expansive knowledge of other territories and the wider global landscape.
Pandemic aside, Atlas-Katz says: "This market is going through hectic changes – the streamers, the IP, the broadcasters, all of it. There are huge changes all around the world and to be part of this group has helped us get to information and learn a lot."
Current programming, original production, drama, entertainment, kids
As elsewhere, Ananey's subscription channels have experienced an increase in audiences across the board during the pandemic, says AtlasKatz.
Partner pay TV platforms Hot and Yes, as well as OTT partners, have also done "whatever they could" to bring more content and entertainment to audiences. One example was the launch of a free Ananey-produced exercise channel, Hot Active, developed exclusively for Hot subscribers.
Ananey also added new programmes and segments to existing channels, such as a daily live programme on Nickelodeon in which teens could ask questions about issues like Covid-19 over Zoom. One session saw Israel's prime minister, Benjamin Netanyahu, and his wife take part
In another example, TeenNick ran a series of humorous interstitials featuring a lead character from original show Daddy-Care, offering advice about navigating life in lockdown and featuring activities such as household chores and exercise.
The Top Floor is set for a second season Atlas-Katz says viewer loyalty has risen as a result of these extra initiatives. "We have huge engagement to our channels, both on the kids' side and on the lifestyle side. In this time of need, kids and adults all needed someone to rely on to entertain them and talk to them. It's our role to give them a bit of comfort."
​A key benefit of having its new parent is that Ananey has been able to address restrictions imposed on its production business during the pandemic. "Everyone stopped producing, obviously, and our production company is our biggest business," says Atlas-Katz. "When we went back to production during the pandemic in June, we had huge help and instructions from the ViacomCBS taskforce on how to do so."
This allowed Ananey to return to production armed with a comprehensive ViacomCBS toolkit of safety protocols, addressing all the steps required to keep employees, crew and talent safe, including social bubbles and a coronavirus inspector on set at all times. "It's a great example of how the fact that being owned by this organisation helped us go back to production really quickly and in a very good way," says AtlasKatz.
One such production was upcoming teen drama Sky for TeenNick from Giora Chamizer, creator of The Greenhouse and Netflix's international version Greenhouse Academy, produced by Ananey Studios (fka Nutz Productions). The series (20×22' over two seasons) follows an alien girl who seeks to hide her identity after crashing to Earth in her spaceship.
"We're hoping to get this one remade as we did with Greenhouse Academy," says Atlas-Katz.
Production of Sky began in January, before the spread of Covid-19, but stopped when the pandemic began to take hold, says Atlas-Katz. Work resumed in June and the series is dues to launch on TeenNick in 2021.
Sky included, the company has since completed at least 10 productions with no Covid-19 related issues, says Atlas-Katz. Among its others shows are a second season of The Top Floor for TeenNick; returning seasons of long-running preschool scripted series Rescue Team (S6) and unscripted show Craft Party (S6) for Nick Jr; and fact ent show Or Shpitz's Bakery for The Food Channel.
Atlas-Katz says Ananey will maintain its current spread of productions. "What we are specialising in is teen and young-adult content, which is always in demand, along with adult [action and spy] drama. And of course, animation," she says, adding that she believes people will want more entertainment or feel-good content over the coming year.
She notes that the pandemic has also given the entire content industry a boost, with creators in Israel having had more time for development, as elsewhere.
While Ananey has had 25 to 30 projects on its development slate at any given time, Atlas-Katz sees this increasing thanks to the rise in bingeviewing on digital platforms and the arrival of yet more services, including ViacomCBS's freshly announced Paramount+. These services will only increase the need for more content, which Atlas-Katz argues is good news for the content industry and players like Ananey.
"The other good news for the content industry is that the language barrier is almost gone," she adds. "People around the globe are willing to watch a series in any language, which wasn't the case a few years ago. It has opened a new window for content from around the world, and Israel is in a good position to benefit from that."
​When it comes to third parties working with or pitching to Ananey, AtlasKatz says the company's track record of working with a lot of third parties will be boosted under ViacomCBS. She points to her boss, Maria Kyriacou, president of VCNI's operations across Australia, the UK and Israel, as an expert in coproduction models. "She knows everyone and knows exactly how to get to those deals," says Atlas-Katz.
"Any company that wants to either coproduce with an Israeli broadcaster – Hot, Yes, Kan or anyone in this market – or who wants to develop something for the international market with us, we are open to different kinds of models, coproduction, co-development, executive producers – whatever is right for the project," Atlas-Katz says.
"We have all kinds of deals with European and American companies. As we've all seen, the globe is open and now more than ever there's a possibility to work together and to create together."
In the works is eight-part thriller Band of Spies, which centres on the murder of Israeli Olympic team members during the 1972 Munich games. It tells the human stories behind the massacre, from the perspective of the Mossad agents involved in hunting down the terrorists as well as the members of the group responsible, Black September. Written by Amir Mann (Fauda), the series is being developed by Ananey Studios with Newen-owned CAPA Drama (Versailles, Braquo) and Canada's Reel One Entertainment. A first episode has already been finished and the pitching process to broadcaster and VoD services is starting.
The aim is to write, produce and bring the drama to air in a year's time. "It's very ambitious but we always like to be ambitious," says Atlas-Katz. Ananey's robust new production model has already proven key to keeping Ananey's content pipeline flowing for its own channels and third parties, but producing under this 'new normal' looks set to continue for a while, says Atlas-Katz.
In particular, travel restrictions are likely to be the main challenge over the coming year. "Why? Because we think we have a special ability to produce here in Israel – American or European shows," says Atlas-Katz, citing Greenhouse Academy for Netflix, which has been renewed for a fourth season. "It was a great success and we are doing it fast and in a very professional way. But now that travelling is not something we can do, it's a bit of a challenge."
The hope is the current situation will end in a year so that normal travel can resume and actors can travel to shoot in Israel, says Atlas-Katz.
"Producing under Covid was a learning curve. We got it, we know how to do it. Yes, it cost more and it needs more flexibility, but we now have the knowledge about how to do it."
​Source: c21 media