June 29,
2021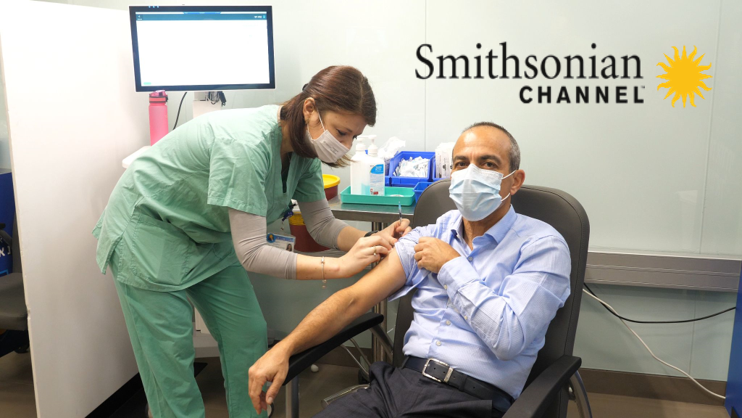 Ananey Studios co-producing original documentary "Vaxxed Nation"
From outbreak to lockdown, Israel was at the forefront of rapidly flattening the curve and inspiring the world to follow suit. Smithsonian Channel's original documentary, VAXXED NATION, produced by Israeli- based leading production company Ananey Studios, provides an intimate look at how Israel — in spite of conflicts and divisiveness — became the world leader in vaccinating its population against COVID-19. It was one of the world's first, fastest, and most successful rollouts of the COVID-19 vaccine, giving other nations an inoculation game plan and an optimistic glimpse of their collective future. So how did Israel do it? Find out when the world premiere of VAXXED NATION debuts Sunday, July 11th at 10pm on Smithsonian Channel US and UK.
​With rare access, cameras reveal the inside story of a dramatic yearlong stretch in the country's history—from the first wave of the pandemic and the lockdowns and restrictions that followed to the aggressive vaccination campaign that reopened the economy to the outbreak of violence between Palestinians and Israeli forces—told through the eyes of its citizens. Following characters, whose stories resonate across borders, this global issue is examined through the lens of the very personal stories of hospital workers, rabbis, business owners, and others as they managed through lockdowns and restrictions, community divisiveness, and violent conflicts in Jerusalem. Discover the story of Israel's vaccination campaign and the obstacles they faced before, during, and after the rollout.
​VAXXED NATION is produced by Ananey Studios for Smithsonian Channel. For Smithsonian Channel, Yael Lavie served as co-Executive Producer with Alicia Green and Tim Evans serving as Executive Producers. Orly Atlas Katz and Osnat Saraga served as Executive Producers for Ananey Studios.  The film was directed by Dani Tene.