July 11,
2021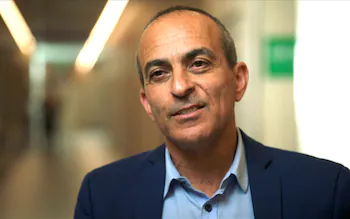 A postcard from the Covid-proofed future, from Israel's ex-pandemic tsar
Back in April, Professor Ronni Gamzu – Israel's former 'Covid tsar' – appeared on Newsnight. "We are back to shaking hands," he declared against images of packed nightclubs and busy beaches. "Back to hugging, back to kissing. This is the way to go."
Since December 2020, when Israel became the first country to launch a national vaccination campaign, this tiny state has led the way out of the pandemic, with five million of its nine million population fully vaccinated. American chief medical officer Anthony Fauci has called Israel "a poster child for doing it in a real way that works". While we were still sitting at home in bubbles, Israelis were able to celebrate Passover in March, and cultural gatherings in April. They fully flung away their masks in June, giving us a glimpse of the sunlit uplands that awaited us as our own vaccine roll-out roared into action.
​But then, early last week, came some new and worrying statistics from a preliminary study by Israel's health ministry. Data from the past month suggested the double vaccine (most Israelis have the Pfizer jab, the rest Moderna) was only 64 percent effective at preventing infection from the Delta variant. Previous studies looking at the older strains had estimated efficacy as high as 94 percent. As of last Monday, Israel's active cases had more than doubled from the previous week, to 2,600.
​And the new government seems more cautious-minded that the outgoing Netanyahu regime. Israelis are again being asked to wear masks indoors in public places, and on public transport. Testing sites have been reopened. Multiple other curbs, including stricter quarantine for travellers and greater testing of children, are expected to be introduced. For those counting down to a July 19 freedom day over here, does this sound like a note of caution?
​This forward-looking country is not about to go backwards, however. "I do not see the need for any more lockdowns," says Gamzu, a doctor and medical director of Tel Aviv Sourasky Medical Centre who became the public face of Israel's vaccination programme after being appointed by prime minister Benjamin Netanyahu last July. "You have to reopen – it can be gradual, it can be dramatic, but you must open. There are many risks in life, not just corona. It's part of living. We don't record car accidents daily, for example."
A wiry, charismatic cross of Fauci and Chris Whitty, Gamzu, 55, is a former director general of the Israeli Ministry of Health, where he served for four years. He is also one of the leading voices in Vaxxed Nation, a documentary charting Israel's pandemic response from the end of February 2020 to May 2021 on the Smithsonian Channel on Sunday July 11.
​
People play football on a beach in Tel Aviv on April 19, after authorities announced that face masks were no longer needed outside CREDIT: AFP
Gamzu is not complacent about the new figures. "We have to acknowledge a bigger challenge," he says. "Rates of transmission are higher, it is true. The vaccine is still good against the Delta (formerly known as the 'Indian' variant), but not as good as it was against the Alpha (the 'British' strain)."
​He is at pains to point out that more people may be catching Covid, but it isn't putting them in hospital, or causing nearly as many deaths. "There is far less chance of severe disease," he says.
​So what do these new statistics mean for Israel's future – and, by extension, ours in the UK? "The virus is still new, still finding its character," says Gamzu. "But, despite the rise in positive tests, there is no justification for shutting down the recovery in economy, culture and socialising. Around the world, we have to consider: what is our target now?" Countries may have to make "small adjustments" in the future, "but in a way that we can still live our lives."
​There is currently much debate about whether Israel should bring back the 'green pass', which for several months, allowed greater freedom for vaccinated people. "The benefit of this is not clear," says Gamzu. "Half of the positive corona tests are in people who've been double-vaccinated and have the green pass already. So it isn't necessarily logical to reintroduce it. And these people are partially protected already. I believe the passport was more effective when the virus was more widespread. This now becomes a decision for policy-makers."
​Gamzu does not appear particularly concerned about the spread of the virus in young people. "The illness is less severe, and will help to create herd immunity," he says; the protection from an infectious disease that occurs when a population is immune either through vaccination, or immunity developed through the previous infection.
A boy receives a dose of the Pfizer vaccine in Holon near Tel Aviv on June 21 CREDIT: AFP
Indeed, a new study released on Friday by Bristol University showed that the risk of severe illness or death from Covid is "extremely low" in children and young people. Just 25 under-18s in England have died from the virus in a one-year period.
"This data would suggest you have to have a very low risk of the vaccine to justify giving it to all healthy children," says Dr. Elizabeth Whittaker, consultant in pediatric infectious diseases at Imperial College London, and one of the researchers on the new paper. The Joint Committee on Vaccination and Immunisation (JCVI) is currently considering whether the coronavirus vaccine rollout should be extended to include children as young as 12.
​Because of the new Delta outbreaks, 12-year-olds in Israel started being vaccinated at the start of June. Before this, adolescents received their first doses at 15. This followed some evidence of a low risk of heart problems, in males under 30, but officials decided the benefit of the vaccine far outweighed the danger.
​According to Gamzu, pharmaceutical companies are now conducting studies on whether younger children should have the jab. He has a five-year-old daughter, and says he would put her forward with no hesitation when she turns 12. "We have been transparent and sincere," he says.
Gamzu: 'Around the world, we have to consider: what is our target now?' CREDIT: Smithsonian
What about booster shots in the autumn? Again, trials are currently taking place as to whether these are necessary – if so, how often, and which types. "Corona is different from flu – it mutates more slowly," says Gamzu. "Scientists are not sure whether we'll need boosters yet; we still don't know whether the virus will change every season. We are looking at the evidence, and at how long immunity lasts from earlier vaccination. Perhaps it will be more stable, and part of our lives. But coronaviruses (in the form of common colds) are already part of our lives."
​He reflects on the reasons behind Israel's pandemic success. "From the very first moment, we built trust and confidence," says Gamzu. "We prepared the public for a challenge, as if they were going into an important battle. In Israel, we go from peace to war, war to peace within a day. So this was nothing new for us."
​The UK, he says, took time to build up trust. "But once the vaccination plan arrived, your government did a wonderful job," he says. "The decision to delay the second vaccines, so more people could have the first dose was correct." He recounts how the British government was "one of the few" to send a delegation to Israel in April 2021 to find out more about their success. On the Oxford-AstraZeneca vaccine, which has had a bumpy time in Europe, and has still not yet been approved by the FDA in America, Gamzu says: "If AstraZeneca was the first vaccine to be approved in Israel, we would have used it to vaccinate our population. As it was, Pfizer came first, so we went with that."
​As for our freedom day, Gamzu is positive. "There will always be a risk that needs balancing," he says. "In a year's time, you think there will be no risk? It's time to read the data correctly, and return to the way we used to live. The only way out of this is the vaccine."
​Vaxxed Nation by Ananey Studios premieres on the Smithsonian Channel on Sunday July 11 at 10pm and repeats throughout the month.
​Source: The Telegraph UK