May 3,
2023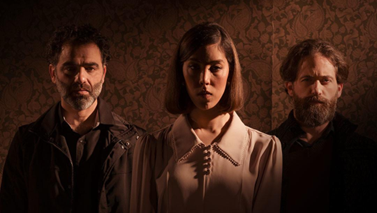 Israeli television would have been way more fun if it featured more series like The Malevolent Bride
The Jewish horror thriller by Kan 11 is a meeting place for the fringe of the Orthodox world, restless demons, dark mysticism, weird hippies and blood in abundance. Despite a messy script and over-the-top acting, it is a satisfying binge that's shifting between madness and trash, and it contains more than meets the eye on a first glance. Spoilers ahead.
Jewish mythology has been buzzing for centuries. It consists of demons and angels, curses and blessings, visions of the afterlife and the battle of Gog and Magog, mystical ceremonies and the darkest of secrets. In terms of the horror genre, this is a money pit. What better material for scaring people and keeping them on their toes, and it's completely our own!
And yet from some reason, Israeli television and cinema, usually fond of slow-paced dramas, romantic comedies and in recent years even detective thrillers, only rarely approach those regions, and if only that weren't the case. In the past few weeks, a new series stepped into that space – The Malevolent Bride, by Kan 11, a horror thriller that is a meeting place for the fringe of the Orthodox world, restless demons, dark mysticism, weird hippies and blood in abundance.
From here on in – spoilers ahead, you've been warned.
The plot revolves mostly around three protagonists: Be'er, formerly Dov Baer (Tom Avni), a former Orthodox turned somewhat sleazy physicist, who – under peculiar circumstances – becomes associated with a string of gruesome murders and violent assaults in Mea Shearim even though he's seemingly unrelated to any of the victims; Malki (Lioz Levi), a psychologist unwaveringly spearing a therapeutic center providing mental treatment for Orthodox women and teens, some of which get involved in the horrific acts; and Giovanni (Hisham Saliman), an Arab cop investigating the murders and struggling to break the code of silence in the closed-off religious community. The three protagonists are haunted by past traumas, and they are truly terrified by the events as they unfold around them. Co-starring in smaller roles are household names such as Lir Katz, Dar Zuzovsky, Esti Zakheim, Shai Avivi, Morris Cohen and Maya Wertheimer, to name a few.
Little by little it turns out that the incidents all have to do with Yedida Shatz, Be'er's mythological ex who has become obsessed with the Jewish occult, and it is through her that a fiendish demon is taking over Orthodox women one by one and passing messages for Be'er. Will the protagonists be able to stop her? They embark on a journey of self-discovery among freakish characters in order to find a solution whereas all the while the demon doesn't let up, taking down victims on nearly every episode, sometimes quite graphically.
And it works. The series created by screenwriters Noah Stollman (Timrot Ashan, The Human Resources Manager) and Abigail Ben Dor Niv (full disclosure – we know each other) and director Oded Davidoff (Someone to Run With, Missing File) is a satisfying binge that's shifting between madness and trash, its drama constant and never-ending.
The series is not without faults. The script is all over the place, getting too long and twisted without really resolving the mystery, and quite a few themes remain unexplained. Even as the plot comes to a close it's still unclear what was the reason for the murders, why did the demon possess those particular women or what message was Yedida trying to convey to Be'er. Just as frustrating is the focus on countless characters, some of them completely minor, whereas other principal characters vanish without a trace (what happened to Ruhe'lea?) Greater focus on the demon itself is also sorely lacking – what was its background, then? We were deprived of information that could have provided greater depth to the series.
Moreover, the over-the-top acting, overall quite common in this genre, is sometimes too over-the-top, and there are also smaller, almost amusing issues – the weird choice of placing the underground physics labs and national library at the Hebrew University campus on Mount Scopus is obviously wrong, a fact known to any student in the Israeli capital. On the other hand, placing a secret office in a hidden room in the Clal Center in the center of town is a genius move.
That being said, The Malevolent Bride contains more than meets the eye on a first glance. Yes, it's a graphic horror series, but it bravely brings to the fore some untrivial themes for a piece of the sort, mainly in putting a spotlight on the repressed fringe of the religious world. Its portrayal of gender issues and mental health is not offensive or exploitive, but rather empathic. Overall, The Malevolent Bride shows empathy for all types of people. Beyond that, creating a series that operates in three languages – Yiddish, Hebrew and Arabic – is not an obvious choice, and it does so without feeling forced.
But the bottom line is different. The Malevolent Bride knows exactly what it is, and it celebrates it with blood, fire and pillars of smoke. It enjoys scaring its viewers, loves the array of extreme characters and acts of madness it explores, and doesn't forget to provide a happy ending of sorts. Israeli television would have been way more fun if it featured more series like this.